The CFT Open Competition 2017

ClassicFlyTying.net, in association with Lagartun, Semperfli, FeathersMC, and the Victorian Hook Company, is proud to present the CFT Open Competition 2017.
With this competition, we hope to generate more interest in the history of the salmon fly, and the different historical methods that were used to dress salmon flies.
The idea is that a competition would motivate contenders to dress to be very best of their abilities. This is a competition for tiers of all classes, awarding prizes in every skill category. How does it work? Read on!
Competition Rules
This competition is open to ALL classic salmon fly tyers across the globe. Membership of the paid area of ClassicFlyTying.net or its sister Facebook group is not required. There is no entry fee.
There are two different patterns to be tied; Kelson's 'Butcher' and 'The Switcher' from Tolfrey; both of which must be tied and presented to enter the competition. These will be judged on quality of tying, style, proportion, period accuracy and 'elan' or 'sparkle', and may be tied in-hand or using a vice.
Whilst entrants should aim to use the best quality feathers they have, furs and silks, the expense/rarity of the materials used or the cost of hook they are tied on will not be a factor in judging.
Each contender may only enter with one set of flies.
Don't go looking for alternative descriptions of the two patterns in books or on other websites. The flies should be dressed according to the descriptions given here, which are taken from their original source books and should be tied at a size between 1/0 and 5/0 on an appropriate style of hook. It should be noted that it would not be 'period correct' to tie either of these patterns with heavily married strips or fully brushed-out wings.
We support using substitutes for materials from endangered – or CITES – species. This is your choice to make. For clarity, you are allowed to use original materials. We believe in sustainability and appropriate substitutes are allowed. Omitting materials as opposed to substituting them will result in immediate disqualification.
The flies should be dressed as historically accurate in style as possible. The use of modern adhesives, such as superglue, or use of liquid wax within the body of the wing is strictly prohibited. We prefer pure silk floss to be used. The tinsels used should be real metal. Use of synthetics, such as mylar tinsel are not allowable under competition rules.
Containers for flies must be clean and free of any residues and clearly labelled with the entrant's name, email and address – flies in containers that do not meet this rule may be disqualified at the discretion of the awards manager.
Upon entry, the flies will become the property of ClassicFlyTying.net and may be auctioned for fundraising towards the operating costs of the Classic Fly Tying website, or may be donated to relevant charitable causes.
The judges' decision is final, prizes may not be exchanged for a cash value.
Don't post your flies on Facebook
Sharing your flies on social media or fora would compromise judging anonymity, so please wait with sharing your work until after the results are announced.
Competition Deadlines
The flies have to be sent to the following address before the 30th of September 2017. This means you can send your entries the latest on this date, for us to receive them in the weeks that follow.
Judging will be finished and the results will be published before the end of October 2017.
Flies must be carefully packaged to avoid damage during transit. Flies must be sent in an easily opened box and include your name on it and your contact details.
The package should be clearly marked for the customs stating "Fishing Flies, No Commercial Value"
The flies must be sent to the following address:
Robert Verkerk
v/ ClassicFlyTying.net
Porsmyra 17
7091 Tiller
Norway
The Patterns
Pattern #1: Geo. M. Kelson's Butcher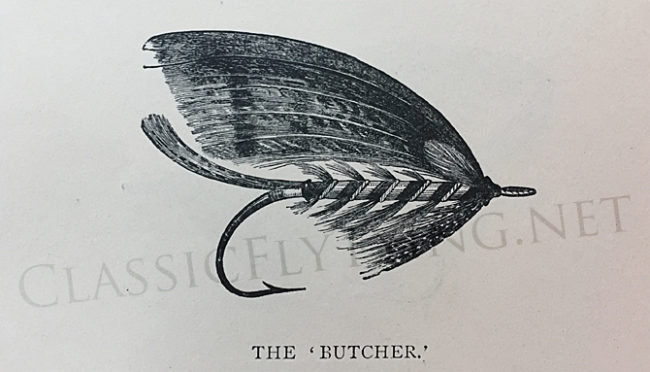 To be tied on an appropriate style of hook, between 1/0 and 5/0.
Tag: Silver twist and yellow floss
Tail: Topping, Teal and blue Macaw (sub kingfisher tail or dyed goose/swan)
Butt: Black Ostrich herl
Body: Four equal sections of Seal's fur; light reddish claret, light blue, dark reddish claret, dark blue
Hackle: Black Cock hackle from light reddish claret
Rib: Flat silver, preceded with silver twist on larger flies
Throat: Yellow Cock hackle and Gallina
Wings: Tippet and red breast feather of Golden Pheasant (one red GP breast and one whole tippet back to back) veiled with Teal then Golden Pheasant tail, Gallina, Bustard (sub speckled turkey tail or wing) and Peacock wing then married strands of green Parrot (sub dyed swan/goose) and yellow Swan. Bronze Mallard over and a topping
Cheeks: Chatterer (sub kingfisher or dyed hackle tip)
Horns: Blue Macaw (sub dyed swan or dyed bleached pheasant tail)
Head: Black Ostrich herl
 and pattern 
Pattern #2: Fredrik Tolfrey's Switcher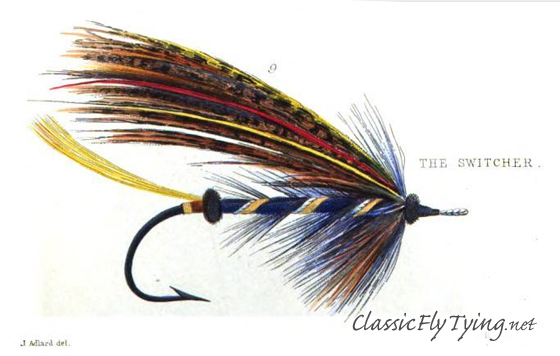 To be tied on an appropriate style of hook, between 1/0 and 5/0.
Tag: Gold twist and orange floss
Tail: Topping
Butt: Black Ostrich herl
Body: Dark blue Pig's wool (or sub with seals' fur).
Hackle: Dark Blue Cock
Rib: Flat silver tinsel and oval gold tinsel
Throat: Orange.
Wing: Mallard, Teal, Bustard, Golden Pheasant tail and Peacock with a blue hackle wrapped around the head like a collar.
Horns: Blue and red Macaw.
Head: Black wool

Judging Panel
The flies will be reviewed through a blind judging process. Judges won't know who tied which fly, so their decisions will be based exclusively on what they see. Members of the judging panel are Dave Carne, Anthony Smith, and Peter de Coensel.
Judging Criteria
All contest entries are judged on technical quality, proportions/balance, and artistic merit (aesthetics). During the preliminary round of judging, obvious negative factors will instantly eliminate a fly from the competition: such as the use of glue, or left out materials. We want to see flies that reflect your talent, as much as they reflect the tradition. Dress your fly as historically accurate as you can, and to the best of your ability. This way, you increase your chances of moving to the next round.
The Judging Panel reviews entries through a blind judging process and then vote to pass flies into the second round.
The flies not making it into the second round, are labelled "Beginners Category".
Once a fly has entered the second round, it has been judged technically sufficient to merit a closer look at the technique, execution, and aesthetic details, as well as overall balance of the fly. During the second round, we look for particularly striking flies that stand out. Great flies are well-balanced, all of the elements that are in the pattern add to it, and nothing detracts. Flies that pass the review during the second round, reach the final round. Technically these are all fantastic flies.
Second round flies not making it into the final round, are labelled "Advanced Category". Flies that make it into the final round are labelled "Pro Category".
Final Judging
At this point we have divided all entries in three categories, and the Judging Panel will start to give points for each individual stage of the flies. Points are given for the application and execution of the tip, tag, butt, body, hackle, tinsel(s), throat, start and ending points of each body stage, wings (length, amount of barbs used, arrangement), heads (shape, placing and size), overall looks, proportions/balance.
We won't bother adding or detracting points for "tips up" or "tips down" wings. Either method is approved.
There will be a first, second and third place in each category, all of them winning prizes.
All contenders will receive their score table per email, so you will know in detail how your entry scored, with hopes that the results will provide an idea of your strong qualities, as well as areas that require more practise.
Photographs of all flies will be published and showcased in a dedicated gallery.
The Prizes

Besides being able to put your tying skills to the test, there are fabulous prizes to be won. The total pot consists of more than $2.000 in value. Complete assortments of Lagartun tinsels, collections of Semperfli threads, including the amazing Pure Silk range, store credit at FeathersMC.com, and a selection of choice of Victorian hook replica's by the Victorian Hook Company.
Most importantly, join this competition because it will be fun. Your contributions will help further put traditional salmon fly dressing on the map, and aid in our strive to preserve the legacy.
Good luck, and tight threads!