Welcome to ClassicFlyTying.net, the reference guide for traditional salmon fly tying.
Our goal is to offer an unbiased perspective on what a classic Salmon fly really is, and how they were dressed in the different periods of old. Most importantly, because the legacy is worth preserving.
Featured: Join in! 
Interpret and dress Tolfrey's Colonel with this new Step by Step Tutorial in progress. Tune in and follow new steps to be added weekly.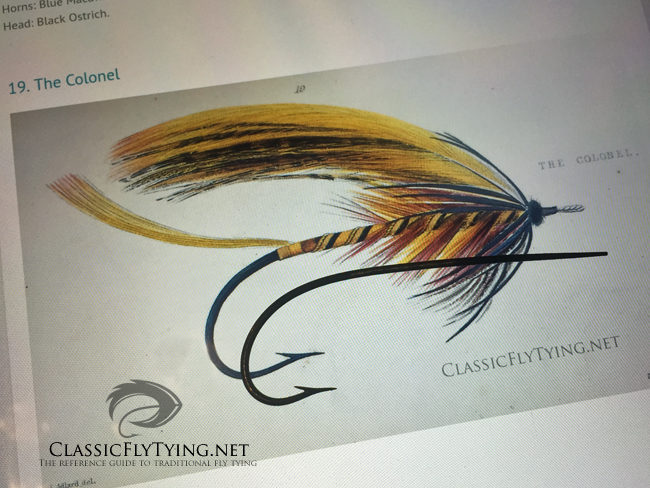 What's new?
Check the Updates Log to see if you missed out on any new content since you last visit. Select it from the Home drop down menu, or click here.

Why Become a Member? 
Each article or tutorial is added with great care, with the intention to provide a service that doesn't exist anywhere else on the web. We are unique!
If you join us, you'll never need to open another old PDF file, search for patterns and wonder what the correct description or interpretation is. We've done that for you, sorted it out, verified it, so you can sit back, relax and tie flies. All information is exactly as per the original writings, sometimes with notes to explain our interpretation or thoughts.
Newsletter
Sign up for our newsletter. It is free, and it only comes once a month.
You will receive update info on the latest publications, and sometimes news from the fly tying community.

Free Stuff
To give an idea of the quality of this website's content, here are a few pages that are available to free viewing:
So join us, and sit back, relax and tie flies. Flies that you will hopefully show us, in the forums, where like minded people are having a nice time. We are an undivided community, passionate about the history and our flies.
Cheers!
Robert Verkerk

Some More Features on this Website
Of course you can browse through the menu's to see what we have to offer, but here is a general overview of our content, for you convenience…

Classic Fly Pattern Database
There are literally hundreds of original patterns listed here. All of them, directly copied from the original books. That means that all listed content, is verified, correct, according to the old descriptions.
Patterns include Kelson, Hale, Traherne, Blacker, Tolfrey, Ephemera, Sandeman, Hearn, Blaine, Wheatley, Hardy, Rogan, Pennell, Pryce Tannat and many, many more..

Original Plates and Artwork
Whenever possible, the pattern descriptions have plates from the old books added to them. There are even several originals from the Fishing Gazette, the old magazine that gave a podium to Francis Francis, Kelson and others. Have you ever even seen what the original Traherne flies were intended to look like?
This website enables you to form your own opinion and do your own interpreting…
The Fishing Gazette: Publishing of the Original Articles and Plates
Every Monday, a new Fishing Gazette article will be added to the Fishing Gazette index, under the Articles menu. Starting with the 18 first ones, "On the Description of Salmon Flies" by George Kelson, where he describes the renowned and notorious Traherne patterns.
Other publications to follow immediately after, with the Childers, Butcher, Jock Scott, Silver Grey, Usk Patterns, several unknown and otherwise undocumented patterns, all with clear copies of the originally published plates and drawings. There is a Halladale Eagle, Brown Eagle, Yellow Eagle and more, with plates, showing a completely different winging method than we are accustomed in these modern times.
A wealth of information is hidden in these Gazette articles, and likely, this is the only place where you will have a chance to find them indexed and categorised.
Truly a must see and must read, for the historically interested classic Salmon fly enthusiast or dresser.

Tutorials and Instructionals
See clear walk-throughs, tutorials and step-by-step instructionals on how to tie married wings, mixed wings, Rogan wings, topping wing, learn how to work with tippets in different traditional manners, make your own wax, see how experts work with Duck feathers and much more…
This website contains a substantial tutorial section.

Materials Gallery
A question that is so often asked, is "when this and that bird is called for, what feather does that mean, and what does it look like". This website provides answers to all these questions.
There is a substantial gallery with pictures of relevant materials, potential substitutes, information and pictures on the birds and historical descriptions…

Articles and Short Essays
What do I buy when I want to start tying classic Salmon flies? Who tied the Ghost Flies? What colour is Dun?
Tons more of questions will be answered in a continuous flow of information and pictures…

Antiques Gallery and Kelson Collection
First class pictures of original antique flies and a gallery of George Kelson's original tying materials, original William Blacker flies, Pryce Tannatt, just sign up and dig in 🙂
Thank you for your kind consideration, and hopefully, your support!
Robert Verkerk